Create Linux and Windows virtual machines in seconds
Choose your language, workload, operating system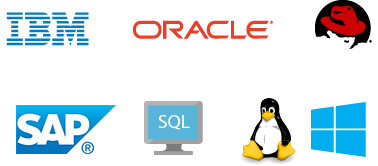 With support for Linux, Windows Server, SQL Server, Oracle, IBM, and SAP, Azure Virtual Machines gives you the flexibility of virtualization for a wide range of computing solutions—development and testing, running applications, and extending your datacenter. It's the freedom of open-source software configured the way you need it. It's as if it was another rack in your datacenter, giving you the power to deploy an application in seconds instead of weeks.
Get more choice
It's all about choice for your virtual machines. Choose Linux or Windows. Choose to be on-premises, in the cloud, or both. Choose your own virtual machine image or download a certified pre-configured image in the Azure Marketplace. With Virtual Machines, you're in control.
Scale to what you need
Combine the performance of a supercomputer with the scalability of the cloud. Scale from one to thousands of virtual machine instances. With the growing number of regional Azure datacenters, easily scale globally so you're closer to your customers.
Pay only for what you use
Keep your budget in check with low-cost, per-minute billing. You only pay for the compute time you use.
Enhance security and compliance
Encrypt sensitive data, protect virtual machines from viruses and malware, secure network traffic, and meet regulatory and compliance requirements.
Explore the power of the hybrid cloud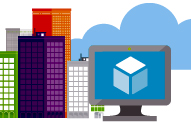 Create virtual machines for on-premises servers, or scale up to the cloud to help balance resources and increase your application's availability. Virtual Machines can integrate Azure cloud capacity into your datacenter for global load balancing when you need it, or access true, on-demand high-performance computing capabilities in the cloud. Explore the power of hybrid cloud
Experience open source, with options
Deploy a full range of open-source and community-driven software solutions on Azure. Choose from a full range of Linux distributions like Red Hat, Ubuntu, SUSE, and community-driven solutions like Chef, Puppet, and Docker. Deploy virtual machines for other products like Oracle Database and Oracle WebLogic Server. Azure is open with lots of options.
Run Microsoft enterprise applications with world-class support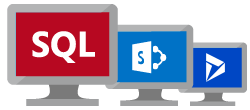 It's easy to deploy Microsoft enterprise applications on virtual machines. From Microsoft SharePoint and Dynamics, to SQL Server, Machine Learning Server, and System Center—you get great stability, performance, and guidance when running on Azure. Our world-class support team has you covered, and our flexible technical support plans cover everything from Microsoft applications to cloud infrastructure.
Powerful enough for any business
Configure your virtual machine size and performance to handle the largest business needs. GS-series virtual machines deliver fast I/O performance with extremely low latencies by using the disk performance of Azure Premium Storage. Dv2-series virtual machines are perfect for applications that demand faster CPUs, better local disk performance, and higher memory.
Secure and well-managed virtual machines

Take simple steps to keep your Azure environment secure and well managed. Secure your virtual machines, apps, and workloads with Azure Security Center. Protect your data against ransomware and human errors with Azure Backup. Monitor your cloud health and performance with Azure monitoring services, such as Azure Log Analytics and Azure Application Insights. Ensure you have governance and that you are compliant with external and internal regulations with Azure Policy..
Reserve virtual machines in advance and save money

Save up to 80 percent with Azure Reserved Virtual Machine Instances when combined with Azure Hybrid Benefit for Windows Server, or save up to 72 percent on all virtual machines. Simply select your region, virtual machine series, and term. Improve budgeting and forecasting with a single up-front payment while maintaining flexibility should your business needs change. Easily exchange or cancel Azure Reserved Virtual Machine Instances at any time.